While everything has been in lock-down we've had some serious goodies sneaking into the warehouse, and now its finally time to reveal them!
This week we're going to check out some of the new G&G kit that has come in this week. These are the guns and accessories that we really think stand out, or at least what we in the Media department thing is cool anyway!
If you're looking for something to cure those lock-down blues then check out what's new in this week below!
---
G&G Piranha MK I
One of the latest pistols designed and built in-house by G&G this pistol does not disappoint. We're impressed with its super cool design, and even more impressed with what's inside it.
Carrying on the success from the GTP 9 this pistol contains all the latest advances in Airsoft pistol design, with a uniquely designed hop-up system and ceramic whirl valve designed to improve efficiency, reduce cool down, and enhance your Airsoft experience. What makes this pistol stand out is its split slide design. Unlike traditional pistols only the rear half of the slide moves backwards, meaning less force is required to cycle the pistol due to the reduced weight of the moving parts. The reduced weight improves the gas efficiency of the pistol, and increases the cycle rate allowing you to fire faster.
If you're after efficiency you've come to the right place. G&G's new gas system improves the efficiency of this gas pistol hugely. Thanks to G&G's new Ceramics whirl valve less gas is wasted, and is more efficiently transferred to the BB, and due to the materials makes the pistol less prone to cool down meaning you can get in more quicker repeat shots for longer.
Read more about the G&G Piranha MK I >
---
G&G BAMF 90 Round Magazine
They might look like a standard Airsoft M4 AEG magazine, but they've got a little secret, they launch themselves out of your gun when empty!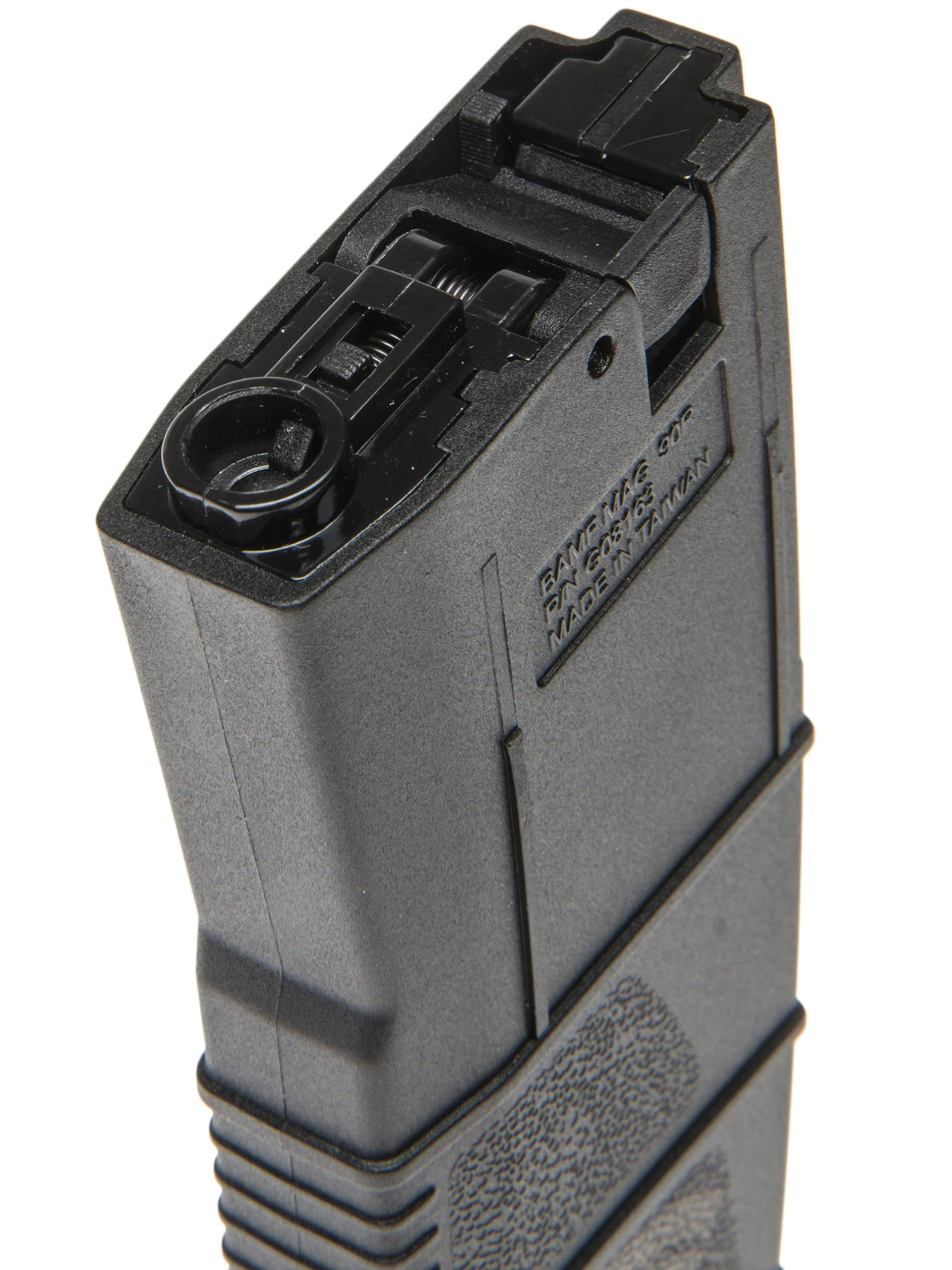 If you thought these magazines were compatible with the G&G BAMF rifle only you were wrong, as long as your gun supports G&G M4 / STANAG mags you too can get your hands on them. A spring powered latch projects the magazine out of your gun when the mag is empty to allow you to reload faster when the seconds really count.
It's going to be interesting to see how these play out, some of us love the idea, but some of us also think Airsoft sites are going to be finding a lot more of these in lost propery!
Read more about the G&G BAMF 90 Round Magazine >
---
G&G CM16 Raider-L 2.0E
The next iteration of the hugely popular CM16 Raider, designed and built on the M4 Platform, which is made to be a starter weapon which is not only a great price, but highly reliable as well! The G&G Raider, but with a PDW stock and MLOK rail, what's not to like?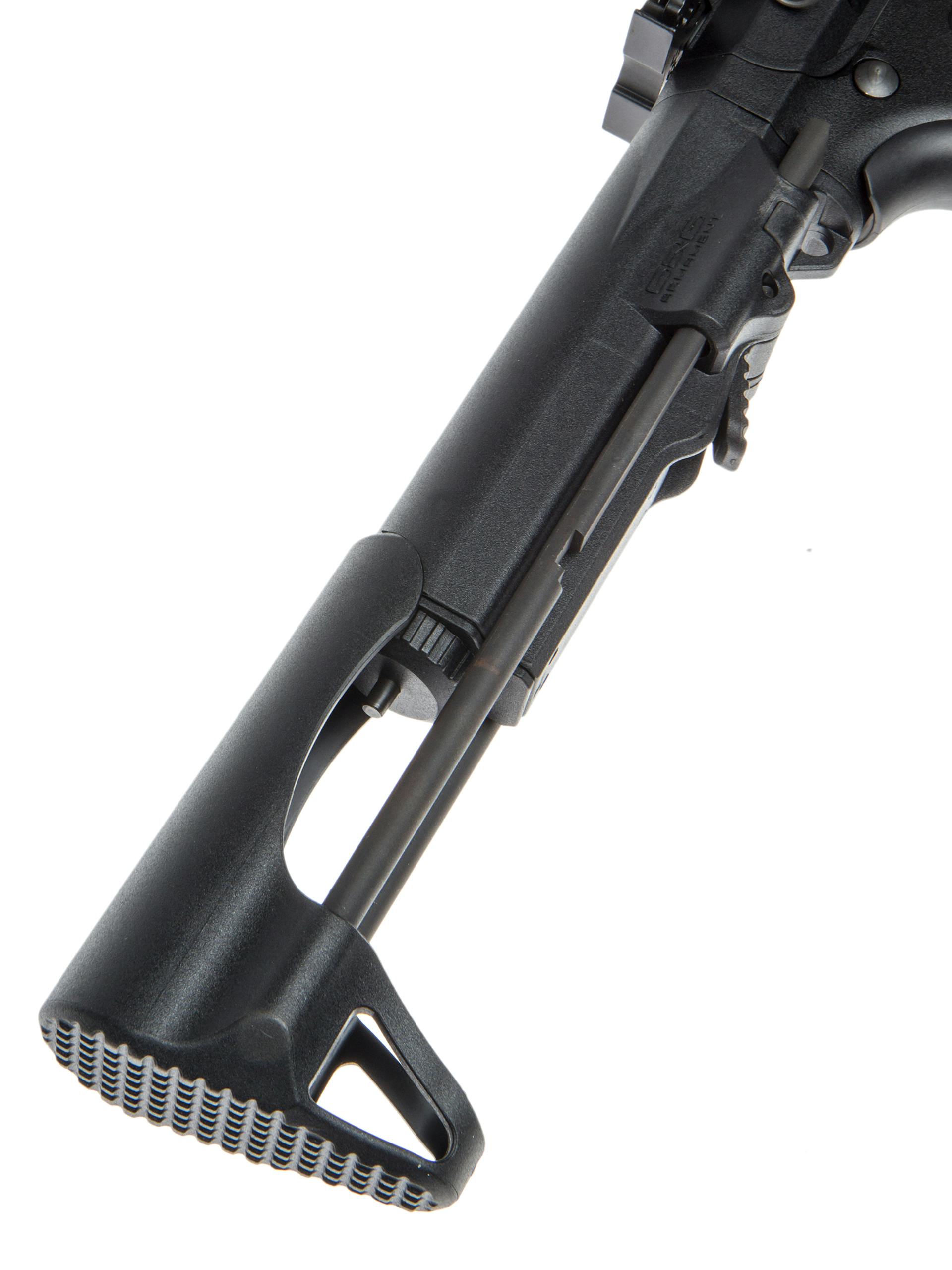 What really makes this rifle stand out from the crowd is the M-LOK Hand guard, which comes fitted as standard, which is one of the latest types of Accessory attachment type to come to market, and is typically usually only seen in high-end weapon builds. The stock also stands out, with a sliding collapsible system making it low profile and perfect for CQB engagements.
Internally, the gearbox is rear wired, with the battery stored in the stock, and comes with a G&G Warranty Sticker so you know the rifle has never been tampered with. The gun features G&G's MOSFET system which is designed to protect the gun and battery during use, offers a better trigger response, and allows the guns full auto mode to be reprogrammed to three round burst.
This rifle is perfect for those who were on the fence buying the original combat machine, and wanted something a little more fancy, or for those looking for the ultimate backup rifle, which could in time take over their main weapon.
Read more about the G&G CM16 Raider-L 2.0E >
---
G&G L85 A2
This Airsoft gun is a replica of the famous L85 / SA80 used by the British Armed Forces as their standard issue rifle. This isn't your standard Airsoft L85 though, its packed with advanced features making this the only Airsoft L85 you'll ever consider buying.
Externally the replica has everything you would come to expect from an L85 replica, with all of the replica parts which would make it an A2 version, with an enlarged curved charging handle. The replica features a rubberised cheek rest and butt plate to prevent slippage, and a large hand guard with opening top cover where they batteries are stored which power the replica. The carry handle can also be removed to reveal a top dovetail mount for attaching replica L85 SUSAT sights.
Internally the replica features G&Gs new ETU system which makes it stand out from all the other available replicas on the market. The replica includes an Electronic Trigger Unit, making the trigger pull light and consistent. The ETU also helps prevent gearbox locking when rapid firing on single shot, as well as preventing the classic fault of trigger contact failure. The trigger can also be programmed to fire in three round burst. The weapon also features a MOSFET which allows for the use of 11.1v batteries. Thanks to the power of 11.1v LiPo the blowback mechanism is crisp, making the gun even more fun to use.
Read more about the G&G L85 A2 >
---
G&G Cobalt Kinetics Team BAMF Advanced
The Cobalt Kineticts Team BAMF Advanced Airsoft Electric Gun is built like a tank, using CNC Machined Aluminium for the Upper and One Piece Lower Receiver, as well as Pistol Grip and Stock. It has the same Auto Ejecting Mag System as the real firearm, and will stop firing and eject the mag once empty.
This Airsoft Electric Gun is a fully licensed replica of the Cobalt Kinetics TEAM 5.56x45mm AR platform rifle, which was made as a competition gun to massively improve timings by shortening operation of the rifle with an Automatic Magazine Ejection system called CARS. This system has proved itself with 21 podium finishes and two world titles in the Competitive Shooting scene. The Airsoft Replica is designed to perfectly mimic the system by having a spring-loaded flap on the magazine which will activate as soon as the last BB has left the magazine, prompting you to insert a new magazine, and shaving precious seconds off your reload time. The Gearbox will stop turning over once the magazine has ejected, and will continue to fire again once a magazine is detected inside the magwell. This system can be deactivated with a small Toggle Switch on the top of the magazine; alternatively you can use traditional Airsoft M4 Magazines as you would in any other Airsoft Gun, but CARS compatible magazines are required for the Auto-Drop Function to work.
The heart of this Airsoft Gun features the fearsome G&G G2 Gearbox which seriously ramps up features out of the box, and sets a whole new level of expectations from your Airsoft Equipment. Main features of the G2 Gearbox include a Quick Change Spring which allows changing of the Main Spring without disassembly of the gearbox, a 50% decrease in size of the MOSFET whilst retaining the same performance, a built-in speaker for Audible Warnings and Troubleshooting (such as warnings for Low Voltage and Motor Jams), as well 70% improved strength from a redesign of the Gearbox.
Read more about the G&G Cobalt Kinetics Team BAMF Advanced >
---
Want to see more G&G?
Interested in looking at everything G&G has to offer? Why not check out our G&G Airsoft Page, where we list every single G&G Armament gun we have!
---
There you are, now you're up to speed with a few of the latest and greatest new products from this week! Let us know in the comments what you think of our picks, or let us know if there is something you're waiting for!