For those who haven't yet used TokyWoky, it is the Chat System we have running on our website which is featured at the bottom right, and has as similar style to Facebook Chat. The chat box allows you to get in contact with other Airsoft Players browsing the site, allowing you to ask any and all questions should you need the help!
We've gone ahead and picked 3 interesting questions we have answered and added more depth to our response. Hopefully this should answer some of your questions as well!
---
CYMA Suppressors
Visitor
Hi everyone, I have the cyma cm.619 fat boy and was wondering what suppressor I can use is it a 14mm one
Almost all CYMA replica come with a 14mm Counter Clockwise thread, infact, we can't think of one which does not.
Before you start to remove flash hider you first need to check that it isn't secured in place by a small grub screw as seen in the picture below. This nut is designed to lock the flash hider in place to prevent wobbling and can seriously damage the threads of the outer barrel if is forced off. We've seen horror stories of replicas sent to us for repair where the user has taken a wrench to the flash hider to get it off and stripped all the threads off the outer barrel, a costly mistake.
Once you've removed the barrel locking nut simply twist the flash hider counter clockwise until it comes off. To attach your new suppressor twist it in the opposite direction.
If you're having trouble finding suppressors for CYMA replicas the thread type can be called either CCW or Counterclockwise, which mean exactly the same thing.
Using Ni-MH in Airsoft Guns instead of LiPo
Visitor
hi if i buy a specna arms edge that come with lipo batteries can i use NimH instead?
Unless a gun has a special requirement, such as a MOSFET or trigger system, which require a certain amount of power or discharge rate, you should be able to use any type of Airsoft battery in an Airsoft Gun. The only notable example where you have to use a specific battery are the G&G replicas with the smart MOSFET, which require an 11.1v LiPo, any other replica should be fine.
Typically people use LiPo for their ease of fitting, LiPo are much smaller and lighter. LiPo are typically easier to carry due to their weight, and fit into smaller locations, such as in PEQ boxes, in buffer tubes, and with some super tiny ones inside handguards!
LiPo and Ni-Mh both provide a certain voltage, with the only difference to the layman is that LiPo can discharge faster than Ni-Mh which can slightly increase the ROF of your replica, and prevents battery sag in higher rate of fire replicas (when a build tries to pull more power than the battery can provide so the rate of fire drops). If you want to be safe: 90% of AEG run perfectly on 7.4v LiPo or 9.6v Ni-Mh.
If you're wondering which battery you should use with your replica you can always check out our recommendations directly on the product page. If you go to the Specifications Section, then scroll down to the Battery Specific Section we typically suggest the perfect battery to use.
Shipping to the EU
Visitor
Hi everyone, i live in Denmark, and want to know how much, it cost in delivery, to get something shipped to here.
You can easily calculate your Estimated Postage Speed through your Cart once you have added the items you wish to purchase.
To calculate a rough delivery cost first add items to your Basket, then navigate to your Cart. Once you're at the cart you can enter your delivery postcode into the Estimated Delivery Cost Box, and press Calculate.
The best possible delivery method will be shown in the Summary Box, and will display the Estimated Delivery Cost and Estimated Delivery Date.
If you have specific postage requirements your best bet is to get in touch with Customer Services who will be able to arrange it for you. You can get in touch via the Contact Us Page, or by emailing: sales@patrolbase.co.uk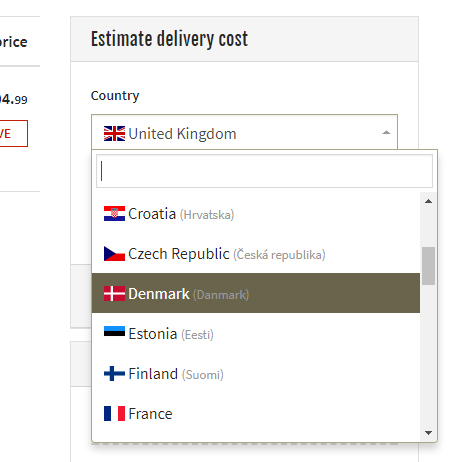 ---
Hope this answered some of the Airsoft related questions. As always, we'll pick our three most interesting questions on TokyWoky and see you again next time.
Hope this helps 🙂
Patrol Base Jonny